Kang Yeonsak (August 12, 1976 – July 6, 2013) was the leader of the Korean terrorists who masterminded the takeover of the White House in order to unify Korea and turn America into a nuclear radiation wasteland using top secret nuclear fail safe device Cerberus, but hasn't counted on Mike Banning to stop his plans.
Biography
Edit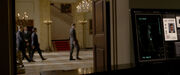 He disguised himself as the head of security and aide for South Korean Prime Minister Lee Tae-Woo. To ensure a reunified Korea, he and former secret service agent, Dave Forbes take President Asher, Secretary of Defense Ruth McMillan and Chairman of the Joint Chiefs, Admiral Joe Hoenig hostage in the Presidential bunker. Kang orders the US to withdraw all their troops to allow the civil war to end and also seeks to destroy the US with activating their nuclear weapons as payback for the untimely death of his parents. To accomplish this, Kang needs the three codes from Asher, McMillan and Hoenig that will allow him to activate Cerberus. Kang is eventually killed by Mike Banning during a knife fight.
Behind the Scenes
Edit
Kang Yeonsak was portrayed by Rick Yune in Olympus Has Fallen.